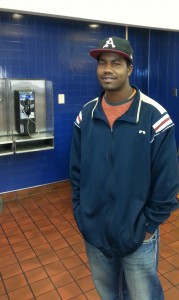 Dejon climbs cell towers for a living. He may think about death more than you do. One of Dejon's work colleagues died prematurely. Dejon does not fear death because he was raised in a Christian family and knows Christ as savior. Although Dejon made some big mistakes in his youth, he is aware that God forgives sinners like you and I. Dejon is headed home to Alabama where he will be united with family. Pray for Dejon and his family.
Have I not commanded you? Be strong and courageous. Do not be afraid; do not be discouraged, for the Lord your God will be with you wherever you go. Joshua 1:9
Join Evangelize Cincinnati and meet courageous men like Dejon.