Evangelize Cincinnati's Nominees
Option 1: Vote for Charlie from MSBC.
Truck Evangelism may not be your style, but this biblical evangelist is bold, agreed? In 2015, let's make it our goal to make as many impressions as Charlie.
Option 2: Vote for Jeffrey Fowle. 
Jeff left a bible in a washroom in NORTH KOREA.  Jeff lives in West Carrollton just north of Cincinnati. You don't have to go to North Korea to do biblical evangelism. Join us in North Kovington and share the gospel.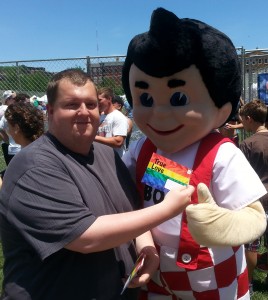 Option 3: Vote for Big Boy.
Chris shared a gospel tract with Big Boy.  Somebody shared the gospel with Billy Graham and look what God did through him, right? Imagine how many people an evangelist like Big Boy can reach in a year: 3 meals a day times 120 area restaurants.
Vote for your favorite biblical evangelist by making a comment using the comment button ABOVE this post.