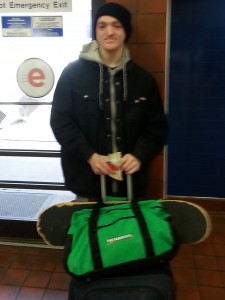 Ryan the Skateboarder was traveling from Nebraska to Virginia for a fresh start.  That's a 40 hour bus ride if there are no delays.  To make it worse, Ryan found it difficult to sleep on the bus.  Despite the long ride, Ryan was in good spirits.
Ryan is a young man still searching for his "spiritual connection" to God.  We talked about Christ's claim that He is the only way to connect to God.  Ryan took the "good person" test and we talked about someone who would pay the fine for him if he trusted in Christ for salvation.
Ryan is relocating to Virginia where he has family including his Mom who goes to church.
Please pray that the long journey for Ryan leads to a fresh start that honors God.
"Salvation is found in no one else, for there is no other name under heaven given to mankind by which we must be saved."  Acts 4:12