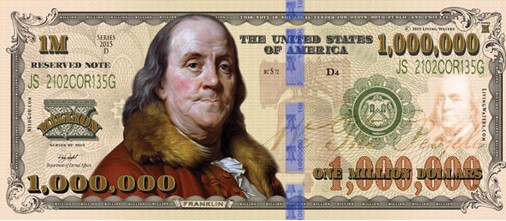 If you had a million dollar bill, would you share it with a total stranger?
I did. And it was so much fun that I plan to do it again this week.
I should tell you that the million dollar bill comes with a million dollar gospel tract printed on the back. "Will you go to heaven when you die?" If you share it with someone, their life may be changed for time and eternity.
If you decide to share a million dollar bill with a total stranger, here's how to do it:
Approach a total stranger.
Chit-chat about anything for a couple minutes.
Smile and say, "Oh, I have a free gift for you". Then hand them a new million dollar bill. Most people smile.

Finally, read the million dollar question: "Do you think you will go to Heaven when you die?" You are into a spiritual conversation.

Once the million dollar question has been asked and answered, you can read the rest of the gospel tract: Have you ever lied, stolen, or used God's name in vain? Once the person sees their need for the Savior, the gospel of Christ is shared.
You just have to read the million dollar bill and let God work on their heart.
If you had a new million dollar bill, would you share it with a stranger? You can order a pack of 100 from the LivingWaters.com store.
If you are local, join Evangelize Cincinnati on Saturday morning and we will work together to share million dollar bills with total strangers. Check out our Biblical Evangelism Outreach Schedule for dates and times.