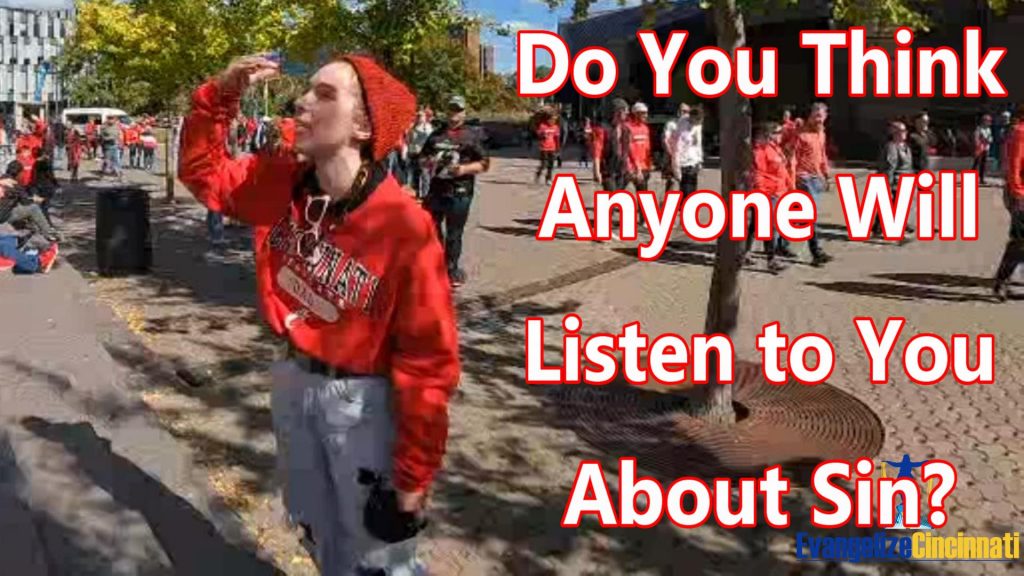 On October 8, 2022 we encountered this woman at the University of Cincinnati football game. She was triggered while hearing the law of Moses and the gospel of Jesus Christ. And she asked the question: Do you think anyone will listen to you about sin? Watch the two minute video below.
Eric pointed to the scriptures and was prepared to engage. But, as you will see, this woman was not really interested in a conversation. As a matter of fact, she pulled headphones over her ears as she left. Join us in praying that God would give her ears to hear the truth of the gospel.
2 Minute Video: Do You Think Anyone Will Listen to You About Sin?
Will Anyone Listen About Sin?
Christians know that God ordains the ends as well as the means. Sometimes he uses the foolishness of preaching to save some (1 Corinthians 1:27). We strive to be faithful and leave the results to God.
For as the rain and the snow come down from heaven and do not return there but water the earth, making it bring forth and sprout, giving seed to the sower and bread to the eater,

so shall my word be that goes out from my mouth; it shall not return to me empty, but it shall accomplish that which I purpose, and shall succeed in the thing for which I sent it.

Isaiah 55: 17
Evangelize Cincinnati
We proclaim the gospel at sporting events around Cincinnati. And we do one-to-one evangelism on the UC campus. We also do abortion ministry.
Check our Evangelism Outreach Schedule and join us.