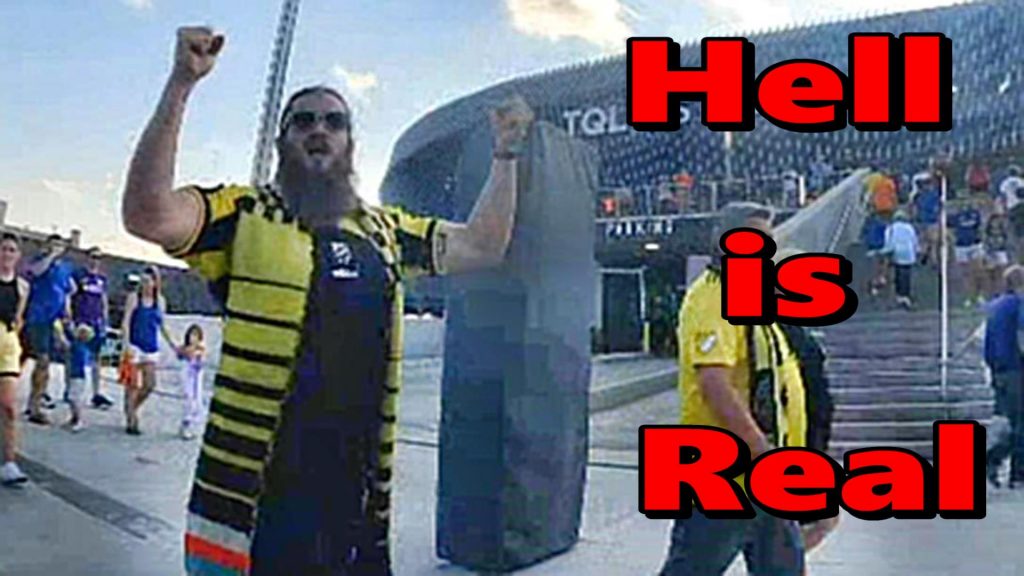 FC Cincinnati hosted the Columbus Crew on August 27, 2022. The interstate rivalry matchup is known by fans as the "Hell is Real" match. See the two minute video below.
Hell is real. But Jesus and his gospel are also real. Praise God who rescues sinners from hell.
2 Minute Video: Hell is Real
Why do Ohio fans call the match, "Hell is Real"?
There is a sign between Columbus and Cincinnati that reads, "Hell is Real". So travelers to the annual match between Columbus and Cincinnati can't avoid the gospel truth.
Here is a Columbus Dispatch link to more information about Jimmy Harston, the Christian man behind the billboard. He has put up 20 billboards. His goal is obey Christ.
Apollos Watered …
Jimmy Harston did his part. He planted a billboard that thousands of fans see.
We watered by proclaiming the gospel. We attempt to make a personal, passionate plea. And we point fans to the cross of Christ.
Now we pray that God will give the growth. He will work and will to His good pleasure. For he is mighty to save.
What then is Apollos? What is Paul? Servants through whom you believed, as the Lord assigned to each. I planted, Apollos watered, but God gave the growth. So neither he who plants nor he who waters is anything, but only God who gives the growth.

1 Corinthians 3: 5-7
Evangelize Cincinnati
We proclaim the gospel of Jesus Christ at sports venues around Cincinnati, Ohio. And we do one-to-one witnessing at the University of Cincinnati.
Check our Evangelism Outreach Schedule and join us as we Evangelize Cincinnati.