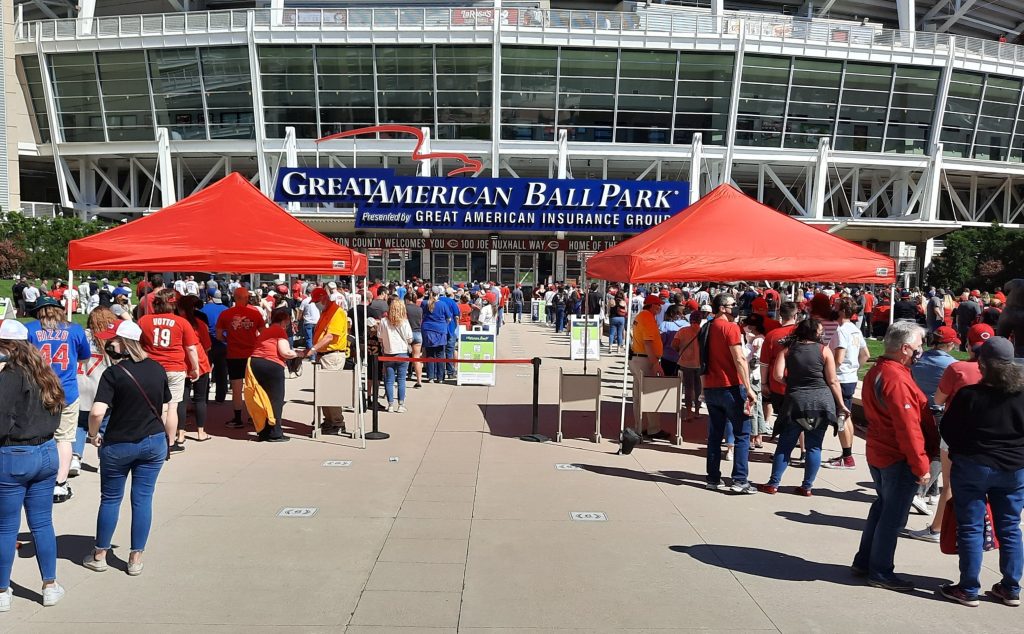 Gospel Evangelism at Red's Games
In an effort to bring glory to God, we do gospel evangelism at Red's games. We also share the law and the gospel at the abortion clinic, ball games and other entertainment venues around Cincinnati.
The Cincinnati Red's draw over 12,000 fans at every home game. Lord willing, we will proclaim the gospel at about 40 of the 81 home games.
At Cincinnati Red's games, we:
Proclaim the Gospel – We share the law and the gospel of Jesus Christ with Red's fans as they arrive at Great American Ballpark. We warn them about sin and point them to the Savior.
Offer the Good Person Test – We offer the Good Person Test which points people to the gospel of Jesus Christ. Once people understand that they have broken the Ten Commandments, we share the gospel.
Distribute Gospel Tracts – We share million dollar bill gospel tracts with fans entering the game and fans congregating in the open bar area.
Then we pray for fruit. Join us in praying that God would grant Red's fans the gift of repentance. 2 Timothy 2:25-26.
See the two minute video below from May, 2021.
Join Us and Evangelize Cincinnati
Check our Evangelism Outreach Schedule. Join us as we Evangelize Cincinnati. We share the gospel at the abortion clinic, sports games, and other entertainment events around town.
For like-minded sports ministries in your area, check out Sports Fans Outreach International.
Thus it is written, that the Christ should suffer and on the third day rise from the dead, and that repentance for the forgiveness of sins should be proclaimed in his name to all nations, beginning from Jerusalem.

Luke 24: 46-47