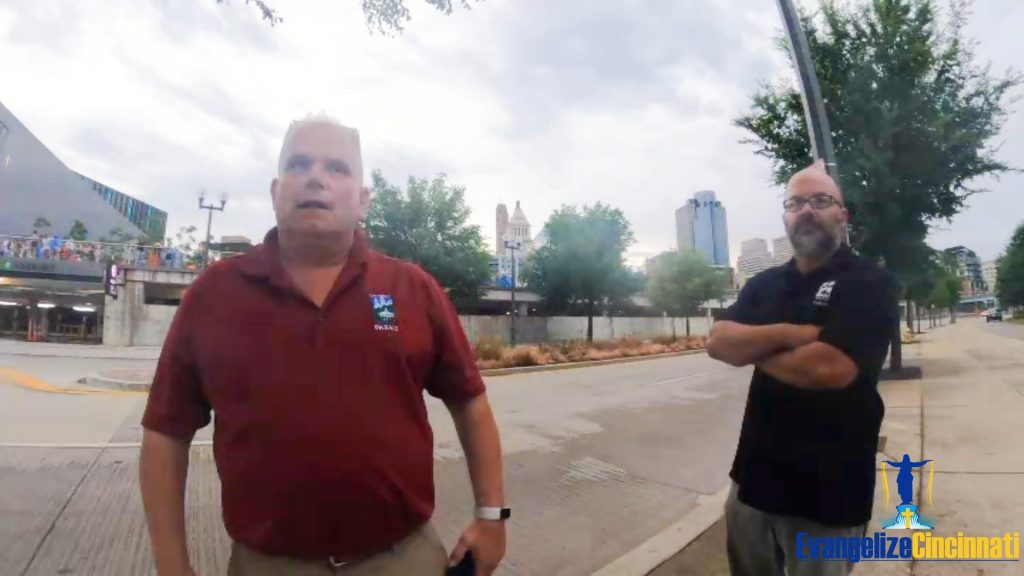 On July 6th, 2022 concert goers in Cincinnati heard the gospel. See the 3 minute video: Gospel Proclamation Prompts Call to Cops.
This concert event was at the Brady Music Center on The Banks in Cincinnati. The venue capacity is 4,500 indoor and 8,000 outdoor. And it is attractive to us because the people wait outdoor in long lines.
We are praising God that He opened a door for the word to be heard. Obviously, many of these screaming fans were actively engaged.
Will you join us in praying that God would grant new hearts to sinners?
3 Minute Video: Gospel Proclamation Prompts Call to Cops
What About the Police?
As you will see, the video contains an interaction with authorities who attempted to stop the gospel from going out. They promised that police would be called.
And about twenty minutes later a Cincinnati Police Officer did cruise by. But he did not stop or ask us to stop proclaiming the gospel. There was no real problem.
As you already know, free speech is guaranteed by the Constitution in the United States. And gospel proclamation on a public sidewalk is protected speech. It is a perfect place to proclaim the gospel.
Encouragement for Christians
If you are interested in proclaiming the simple gospel message in the open air, I would like to offer you some encouragement.
First, I will assume that you are connected to a solid Bible believing church. And you read your Bible daily and pray for God's leading.
To get started, I would recommend that you speak with your Elders about your interest in this area. They will confirm your understanding of the simple gospel message and they may give you opportunities to learn and grow.
In addition, you may want to consider reading Arnold Dallimore's two volume book on George Whitefield. You can't help but be inspired and grow in confidence that God uses open air proclamation.
Lastly, to those who are interested in reaching the large crowds at sporting events in your area, investigate Sports Fan Outreach International. They can connect you with other like-minded gospel men who proclaim the gospel in your area.
Evangelize Cincinnati
We proclaim the simple gospel of Jesus Christ at sports venues around town. In addition, we do one-to-one evangelism at the University of Cincinnati. And we do gospel driven abortion ministry.
Check our Evangelism Outreach Schedule and join us.