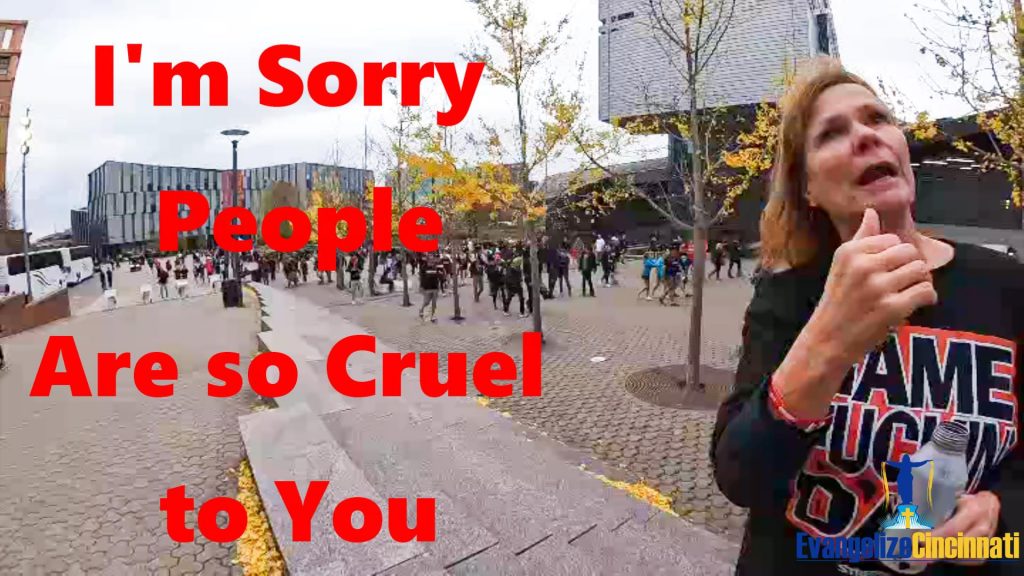 Watch the one minute video below: Gospel Provokes UC Fan. On November 4th, 2022 about 40,000 fans had an opportunity to hear the gospel as they entered Nippert Stadium. These University of Cincinnati and Navy fans were there to witness the football game. But we proclaim the simple gospel so they might hear the good news.
The angry man in the video could not help himself. He shouted and gestured wildly in response to hearing the gospel. For us, this is nothing new. We expect the gospel to provoke sinners.
But then, to our astonishment, a woman approached us and apologized for the man's behavior. We were more than a little surprised. Perhaps she was taken back by his rudeness.
Nevertheless, we are praying that God would grant both the man and the woman in the video repentance and faith in Christ. We know that God offers peace to those who surrender to Him.
Video: Gospel Provokes UC Fan
2 Corinthians 2:15
For we are the aroma of Christ to God among those who are being saved and among those who are perishing, to one a fragrance from death to death, to the other a fragrance from life to life.
Evangelize Cincinnati
We proclaim the gospel at sporting events around Cincinnati. We also do one-to-one evangelism at the University of Cincinnati and at the bus station. Finally, we do abortion ministry in Kettering Ohio.
Check our Evangelism Outreach Schedule and join us.
If you do not live near Cincinnati and you are looking for a gospel driven sports outreach in your city, check out Sports Fan Outreach International.