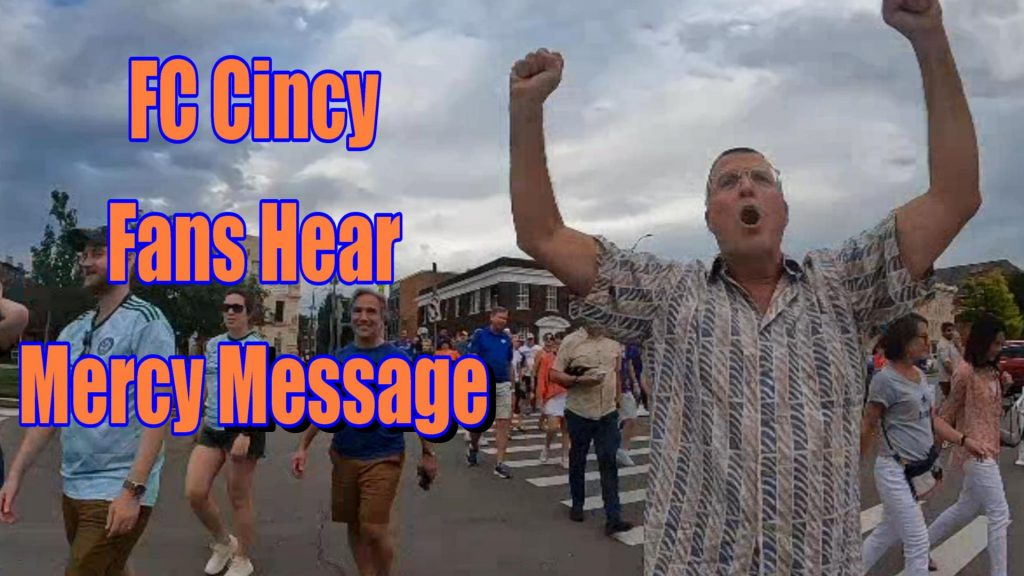 On August 13, 2022 FC Cincy fans heard the message of Jesus Christ. We proclaim that God has mercy for sinners who repent and believe the gospel.
According to FC Cincinnati.com, a sellout crowd of 25,037 attended the match at TQL Stadium. Many heard the gospel proclamation. See the one minute video below.
1 Minute Video: FC Cincy Fans Hear Mercy Message
FC Cincinnati Fan Base
As you will see from the video, the crowd is impressive. And according to worldfootballnet.com, FC Cincinnati is among the Top Ten in Major League Soccer attendance. With an average of over 22,169 fans per match, the opportunity to proclaim the gospel is compelling.
The fan base appears to attract a younger crowd and many are presumably secular. Although we receive encouragement from a few Christians (as illustrated in the video), most of the reaction to gospel proclamation is critical and skeptical.
But we know that God is sovereign over all things including the gifts of repentance and faith.
So then he has mercy on whomever he wills, and he hardens whomever he wills.

Romans 9:18
Evangelize Cincinnati
We proclaim the gospel at sporting and entertainment events around Cincinnati. And we do one-to-one witnessing at the University of Cincinnati.
Would you like to join us at FC Cincinnati matches? Check our Evangelism Outreach Schedule and join us as we Evangelize Cincinnati.