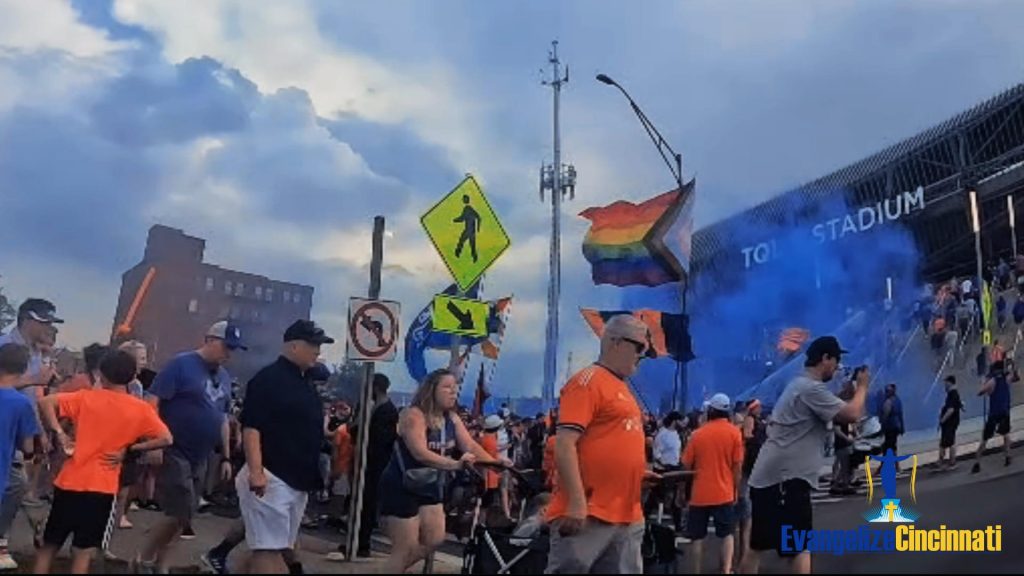 On June 3, 2023 FC Cincinnati hosted Pride Presented by Proctor & Gamble. Before the game we proclaimed the simple gospel of Jesus Christ to fans. We love all FC Cincy fans and we were not there to judge or condemn them.
Why do we attend Pride events? We love our city. And weep for the sin of pride. The Bible says that on the day of judgement many will cry out to be saved from the wrath of the Lamb (Revelation 6:16). We pray that those who join in Pride events in Cincinnati would be saved from the wrath of the Lamb by repenting and putting their faith in Christ.
You see, we know that God can change hearts (Ezekiel 36:25-27) and that the gospel saves sinners (Romans 1:16-17). So we preach the gospel to fans and trust in the sovereign hand and plan of God to change their hearts.
Video: FC Cincy Pride?
But What Does God Say About Pride?
Pride goes before destruction,

and a haughty spirit before a fall.

Proverbs 16:18
What Does God Say about Sexual Sin?
Or do you not know that the unrighteous will not inherit the kingdom of God? Do not be deceived: neither the sexually immoral, nor idolaters, nor adulterers, nor men who practice homosexuality,10 nor thieves, nor the greedy, nor drunkards, nor revilers, nor swindlers will inherit the kingdom of God.

11 And such were some of you. But you were washed, you were sanctified, you were justified in the name of the Lord Jesus Christ and by the Spirit of our God.
Nobody Cares … But We Proclaim the Gospel
At one point, the parade leader in the video proclaims, "Nobody Cares … " into his megaphone. But he cared enough to say something, right?
We are not discouraged. Because we preach to an audience of One. And we know that many people ARE listening. Some portion of the 25,513 fans who attended TQL Stadium heard a call to repent and believe in Christ.
Please join us in praying for fruit. For we know that God's word will not return void.
Evangelize Cincinnati
We proclaim the law and gospel at sporting events around Cincinnati including Reds, Bengals, UC football and FC Cincy. And we do one-to-one gospel ministry at the University of Cincinnati. Finally, we proclaim the gospel at the Kettering abortion clinic.
Check our Evangelism Outreach Schedule and join us as we Evangelize Cincinnati.
For more Pride content from Evangelize Cincinnati, check out: